We are a pioneer in organic products. For more than 20 years, we have stood for responsibly produced milk, which we process into cheese and fresh products. In addition, we are pioneers in the production of organic dry powders.
Ecological and Innovative
We succeed in the sought-after organic sector with large processing capacities, a broad product portfolio, and, most importantly, a secure supply of raw materials. Among other things, the Bio MEG supplies the Mittelgebirgsbauern w. V., one of the largest German organic milk producer communities, with its organic milk. In addition, many BMI farmers have switched from conventional to organic milk production.

An important partner for us is BIOLAND. All organic farmers who deliver their milk to our cooperative are BIOLAND certified or recognized by BIOLAND and manage their farm according to the guidelines of the association. Associated with this are additional requirements in the areas of animal husbandry, animal health, handling, feeding, working conditions, and packaging. This is not only good for animals and the environment, but also meets the wishes of many consumers.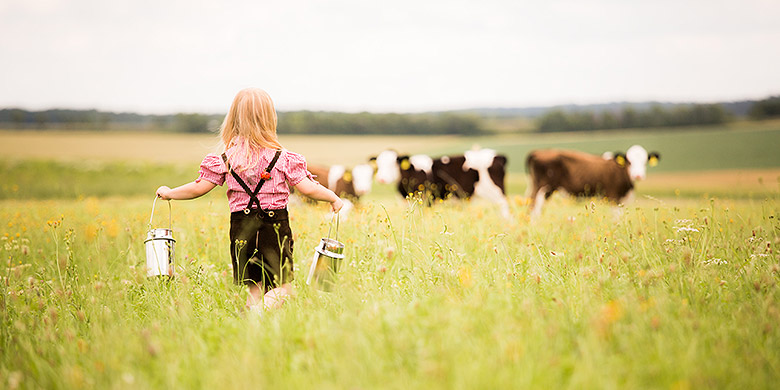 We are one of the major producers of organic whey derivatives. As early as 1993, we were one of the first manufacturers in the dairy industry to start production. Since then, we have devoted ourselves to the consistent cultivation of ingredients in organic quality and serve the continuously increasing demand – worldwide. In our premium range, for example, we offer powders which are additionally certified in accordance with Bioland's recognized quality guidelines. Highlights in the powder sector include the premium products organic skimmed milk powder and organic whole milk powder. These are certified according to the recognized quality guidelines of BIOLAND and bear the seal of the association.
The demand for organic dairy products is high and the awareness of the origin of food continues to rise among consumers. We have adjusted to this and are increasingly showing our experience with organic products in food retailing through an increasing supply in transparent organic quality.